We arrived to a Paris locked down and traumatized by the November 13 terror attacks. Tear gas still in the air from an illegal climate march. Draconian emergency measures banning any gathering of more than two persons with a "political message."
And yet, ten days later at the Arc de Triomphe and the Eiffel Tower, we filmed tens of thousands who took to the streets in joyful demonstration for a commitment to climate action. The energy was electric. The police stood aside. Despite the State of Emergency, activists in Paris found a way to be heard.
On that same day, December 12, 196 countries agreed to take steps to arrest the build up of greenhouse gasses disrupting the climate and causing extraordinary natural disasters.
Post-analysis puts the voluntary agreement somewhere between "a turning point in human history" and "too little too late." At best there is greater hope that governments will stand up to polluting corporations and legislate measures to combat climate chaos.
Of course Vandana Shiva was front and center of the activities–giving speeches, meeting with government ministers, speaking at press conferences, fielding numerous interviews and even helping to plant an organic "garden of hope" in the city.
Here she is arriving at The Rights of Nature Tribunal, one of numerous powerful and packed-to-capacity gatherings she addressed on her back-to-back schedule in Paris.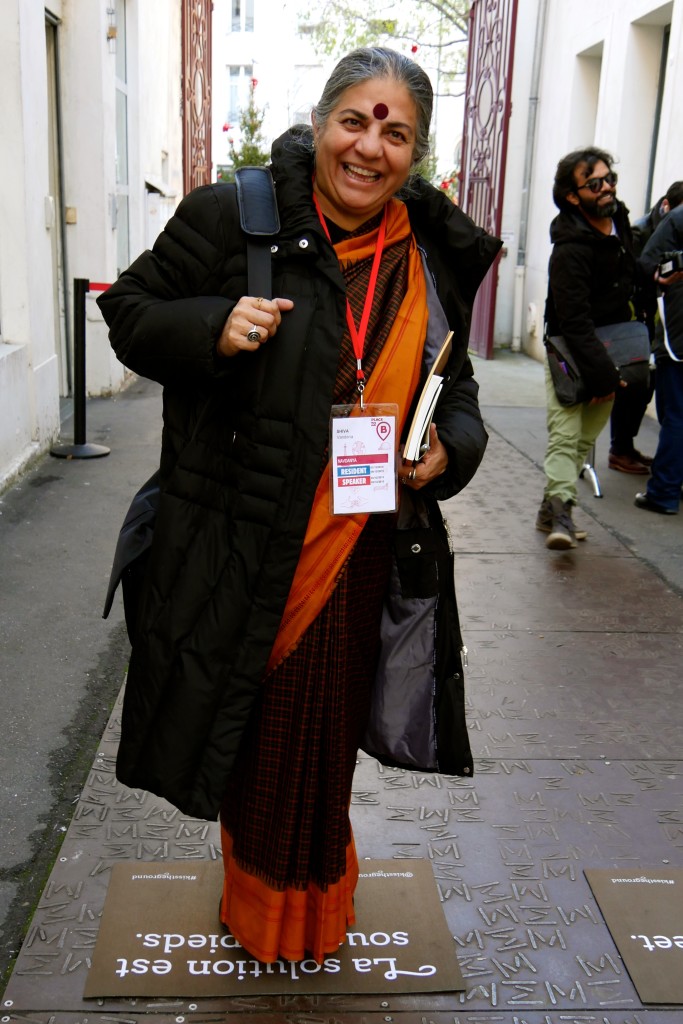 The doormat says The Solution is Under our Feet–a great piece of guerrilla art designed by Kiss The Ground, part of our Regeneration International crew, who also arranged to have the words The Soil Story beamed from the Eiffel Tower.
For the first time, at COP21, soil and agriculture was on everyone's lips and food systems were acknowledged to be factors in climate change.
But just like Big Tobacco and Oil, Big Ag and Big Food are denying the extent of their culpability while proposing false solutions offering more of the same: seed patenting, loss of biodiversity, genetic engineering, toxic chemical inputs, expensive technologies, displacement of farmers and corporate control of our food supply.
Thankfully, in Paris Vandana and the team from Regeneration International clearly articulated their message of hope. Without resource heavy technologies, organic and fair traded food systems can sequester carbon out of the atmosphere and return it to the soil where it belongs.
Our video about her Navdanya farm and university, Welcome to Bija Vidyapeeth was screened at the  It's Possible Forum at La Villette where she appeared with Rob Hopkins of the Transition Network and Paul Watson of Sea Shepherd Conservation Society. This event centered on the change-making possibility of people power, an idea both celebrated and executed in Paris.
As Vandana made clear at the Forum, we can transition away from degenerative and predatory economies. It is not only imperative but also possible for we in the West do well with less.In fact, regenerative gatherings against degenerative systems were numerous and happening all over Paris.
One particularly important event was the press conference held on December 3rd announcing an International Monsanto Tribunal scheduled for October 2016 in The Hague. Another was the Pathways to Paris Concert with Patti Smith, Flea, Thom Yorke, Tenzin Choegyal, Vandana Shiva, Bill McKibbon and Naomi Klein.
Now we are home and back to editing.
With all the filming done for this project, our equipment has taken a beating. Two of our cameras failed on this trip. First thing in the new year we hope to repair them while also preparing for post production. That means fundraising. However, by making a tax-deductible donation to this project right now, you could put your 2015 tax dollars to use. Thank you in advance for your support!
All the rewards still apply, including a free and early link to the film.