Thank you to the hundreds of people from all over the world that completed our survey. In fact we are still receiving responses; if you are interested, join our "advisory team" and complete it here.
We asked you what was your top concern, and you told us: Access to Healthy Food.
That said, as one respondent noted in her comment: "Everything here is connected–and urgent." That thinking is clearly reflected in the results.
Following Access to Healthy Food (79%), you prioritized:
Pesticides, Herbicides and other Toxins in our Food (78%)
Environmental Degradation and Pollution (78%)
Climate Change (73%)
Loss of Biodiversity (73%)
Corporate Influence over Government Food Policies (73%)
Globalization (71%)
Hunger and Poverty (71%)
Displacement of Farmers and Land Grabs (71%)
Unfair Trade Deals (60%)
Here's a short video clip we just put together of Dr. Shiva addressing the issue of interconnectedness…and quantum theory!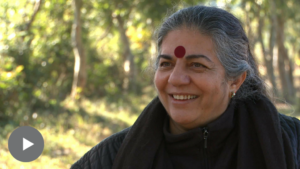 We received hundreds of comments on the survey. Most mentioned the difficulty of ranking any one problem over another and many were understandably despairing of the status quo. A few respondents stood firm that industrial agriculture and GMOs were the solution to the issues we listed; in fact one suggested we "start embracing biotechnology and leave outdated, environmentally unsound organic practices behind."
Here is a short selection of other thoughts from different participants.
"I am Native American and a sustainability scientist. I believe if you explain more about colonization, economic imperialism and unethical for-profit science, more people will fight to stop those influences."
"I would bring up the loss of tradition, knowledge and cultural/social diversity as well as the loss of connection between land, seasons, people and food that is at the core of healthy food."
"Hearing about solutions would be very high on my list of priorities. Knowing what's being done and working makes me a better advocate and activist. And a more hopeful person."
"It's not going take old minds with new programs to change the direction our societal river is flowing–it's going take new minds and an entirely new vision."
"Time is running out. We must pull together and re-energize grassroots movements to overcome these perils."
We agree. The enormously critical issue of food was ignored by both candidates in the U.S. presidential race, despite a bi-partisan poll  that found that 53% of likely voters agreed that too many Americans can't afford healthy food in their communities, 81% believe that food policy is focused on money over health, and 75% favor State support of sustainable farming.
The President Elect has no published food policy, is considering a Cabinet list that includes Big Ag executives to the Department of Agriculture and a Climate Change denier leading the Environmental Protection Agency.
Our only hope is the burgeoning food justice movement that does more than call foul on polluters, but also offers real solutions to the food crisis, the environmental crisis and the crisis of democracy all put together in a message of hope. Presidents and politicians will never save us; historically, only strong grassroots movements have ever brought about meaningful change.
So, onwards: Our next post will include video commentary on the issues raised in the survey.
By the way, we'd love to hear from you. Please send us your comments here and let us know what you think.