We will also visit 
Gandhi's Ashram
 and film gatherings of organic farmers at
Navdanya
 and 
Indore
 (in Central India) where many say the modern organic movement began.
The story of the organic movement as we know it today has deep roots in India and actually features an Englishman. In 1905 an agricultural developer named 
Albert Howard
–from Shropshire–was dispatched to the colony to teach Indian farmers how they should farm.
Instead, this Western scientist discovered that the indigenous farmers could teach him far more: He went on to famously document the benefits of organic agriculture for the 
Rodale Institute
 and other organizations, and is well known for stating that "the health of soil, plant, animal and man is indivisible."
Howard advocated for agroecology long before the advent of GMOs and the corporate control of our food systems.
Today Indore is a center of food culture in India. With Dr. Shiva we'll visit organic farmer's markets, including the 
Sarafa Bazaar
, a night market famous for its vegetarian street food.
Edible treats not withstanding, we see excellent footage ahead.
Thanks to our donors and 
Kickstarter
 backers, in Delhi we'll film at the 
Bhoomi Festival
, source archival material, and look for an artist to help us with animation and graphics:
Here's a picture of the 
Hindu Goddess Durga
 in the 
Madhubani
 style of Indian art. Durga is the embodiment of the warrior woman: She tears down demons and difficulties to build anew. Many describe Vandana as a manifestation of Durga…an idea we explore with her in the film.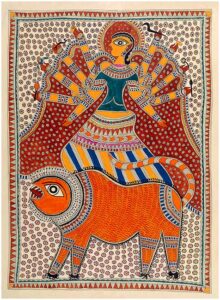 The
Kickstarter
 campaign ends this 
Saturday, September 19
 and you can still pledge. Every dollar over and above our initial goal will go directly into the project and we have a wish list! You could be rewarded with any one of the following, which all make great gifts.
In the meantime, we're excited to be able to get back to the film. We'll send out rewards as soon as we return!