By the time you read this, we will be on the road to Northern California, where we'll be attending two big events in support of The Seeds of Vandana Shiva.
We've already passed $20K with 16 days to go of our Kickstarter campaign. $10K more to raise–we think we can do it! A gentle reminder: We don't get a penny unless we reach our goal. If you want to help us share the story of Vandana's extraordinary journey to prominence, please pledge here now.
You'll be in good company. This past week Seed Savers Exchange, Bioneers, Anna Lappe and the Small Planet Institute, The Omega Institute and Alice Waters stood up for The Seeds of Vandana Shiva.
In fact on our Kickstarter page you will see that we've posted brand new rewards: Seed Savers Exchange has put up a full-fledged membership with extra benefits and The Omega Institute is offering registration (with meals and private accommodations) for their Seeds of Change Conference in mid October. Yes, Dr. Shiva will be there as well.
The moral support we continue to receive for  The Seeds of Vandana Shiva has completely inspired us and we're more than ready to get back to the film. And while we don't want to short-change the priceless assistance of our brothers-in-arms throughout this campaign, it seems that the project resonates particularly strongly with women.
By way of example, last week this popular post on our Facebook page was shared widely and reached more than 43 thousand people.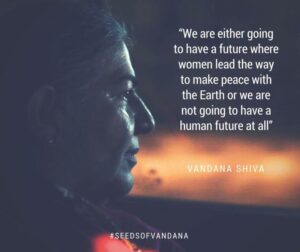 The Organic Consumers Association posted about the project on Facebook this morning and instantly racked up more than 2,000 "likes." We're looking forward to meeting Director Ronnie Cummins at the Heirloom Seed Expo next week. If we reach our Kickstarter goal, we'll be filming him with Vandana and other eco-activists on their Pilgrimage of the Soil in India soon.
But first we'll be at the Soil not Oil Conference in Richmond, where we'll screen our promotional reel before Dr. Shiva's Keynote Address: Here's the poster, which you can click through for more information.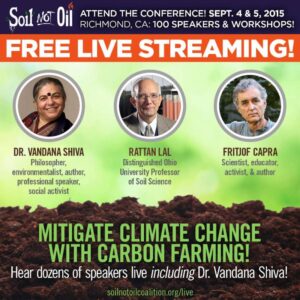 We'll be back to news about filmmaking soon!