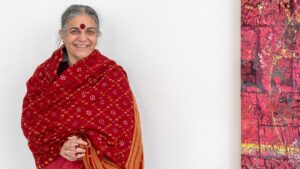 "One of the most valuable things a person can share with another are the gifts of knowledge, awareness, hope for the future, and the tools to make change."  ~ Vandana Shiva
This festive season, you can gift a download of The Seeds of Vandana Shiva to a loved one, colleague, or friend.
By donating to the film's outreach campaign, our partners at Core.live will send a link to the film with your personalized message to anyone of your choice, and on a date determined by you.
It's easy, ethical, and inspirational, plus the environmental impact is low. Your gift will support our work to share the film in community settings around the world.
THEATRICAL RELEASE
Thanks to our distributors at MindJazz Pictures, The Seeds of Vandana Shiva is showing in German cinemas this month, after November premieres with standing ovations for Dr. Shiva in Berlin, Hamburg, Munich, Freiberg, Bonn, and Cologne. Read more…
MEDIA
Dr. Shiva and the film were covered by multiple media sources in Germany, from Das Erste Television to Deutsche Welle, which reaches 291 million international readers per week. Despite a spike in attacks against her in recent times, Vandana continues to act on behalf of the planet, speaking truth to power, and capturing attention wherever she goes.
IN OTHER NEWS
Beware next-gen GMOs
New genetic modification techniques allow developers to make significant genetic changes, which can be very different from those that happen in nature. Despite a strategic PR campaign launched by the industry, these new GMOs pose similar or greater risks to the environment and food safety than older-style GMOs. Learn more...
COP 15 and saving biodiversity from the new GMOs
The United Nations Biodiversity Conference (COP 15) is happening in Canada now (7-19 December). Civil society organizations around the globe will be there to demand a moratorium on genetically engineered gene drives that present a serious risk to biodiversity, disrupt nature's processes, and could drive entire species into extinction. Add your voice…
Vandana Shiva: Biodiversity protection for human health
The web of life is actually a food web. We are interconnected with natural systems and all living things – we survive and thrive by way of an ecological process of co-creation with other life forms. That's why both the planet and people deserve a poison-free world. The health of the planet and our health are one and the same. Read more…
How Bayer/Monsanto finances attacks on ecological farming and food
Investigative reports confirm that the producers of RoundUp fund journals and articles for at minimum hundreds of thousands of dollars to undermine ecological farming, promote industrial agriculture and GMOs, and to attack scientists and others who tell a different story. Not surprisingly, Dr. Shiva is frequently the target of these attacks. Read more…
Good news: Banning products from deforested areas
The European Union will ban the import of products that contribute to deforestation, including palm oil, cattle, soy, and coffee. The FAO says that an area of land larger than the EU itself has been deforested around the world to produce food commodities. You can still buy from ethical, regenerative, and fair-trade producers. Read more…